Smart Dog Collar
Heart Health Scan,
Activity & GPS.
✅ Medical-grade accuracy. Patent pending. Multi-award winning.
Get started
The 1st collar with Heart Health Scan & GPS
Shine a light on your dog's health.
Monitor their vitals, appetite, activity and whereabouts.
Detect those early warning signs of illness, invisible until now.
The most advanced solution to keep your pup healthy and safe
Resting heart & respiratory rate

Learn your dog's vital signs baseline and quickly detect abnormal changes.
Activity, vitality and well-being monitoring

Keep tabs on your dog's activity level, well-being, sleep, appetite, bark and daily habits.
Real-time GPS tracking

Enjoy peace of mind by knowing exactly where your dog is at all times.
Discover your dog's heart signature with Heartprint Technology™
Your dog's heart signature is a geometrical representation of their heartbeats that contains meaningful insights, including on arrhythmia. We've launched several research projects to extract new digital biomarkers of pathologies, aging and stress from these shapes.
Ever feared you'd lost your pup? Never again.
Millions of dogs go missing every year.
Save yourself some trouble with GPS, the surest way to find them if they run-away. Unlike Airtags, it will work anywhere there is cell coverage.
Live tracking. Virtual fence. Escape alerts.
A major leap into preventive care
Continuous check-ups in the comfort of your home. Your dog's health is too important to be left to chance, take matters into your own hands.

• Immediately spot the changes your dog might be trying to hide.
• Spot early symptoms of heart diseases before they move to a severe stage.
• Monitor your dog's treatment effectiveness.
• Allow your vet to take data-driven decisions for the best care.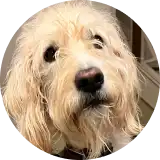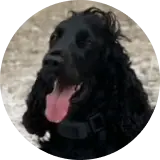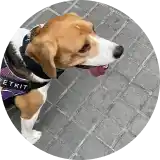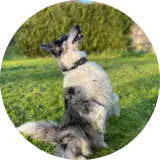 SMART DOG COLLAR APPLICATION
An all-in-one health app to protect your dog
Free companion app available on iOS and Android
Advanced heart and breathing scan
Monitor your dog's heart and respiratory rate at sleep with medical precision and discover your dog's health baseline. These vitals are the most important to prevent heart issues, to monitor dogs with heart disease, at risk / ageing dogs, and to keep an eye on an ailing dog.
Vitality, appetite & activity
Keep tabs on their activity, vitality and wellbeing levels : walking, running, eating, resting, barking, appetite and daily habits. The activity monitoring gives a wide overview of all your dog's daily activity, ensuring that their vitality and physical activity levels match their needs. Stay close to your dog, even when you're miles away.
Smart GPS Tracking
Know where your dog is at all times, whenever they're not by your side. Track their outings while they're not with you and know where to look for them in case they run away or get lost. Always keep an eye out on your dog's walk when they're with a sitter or dog care facility, just as an extra precaution.
Long battery life
2 weeks between charges.
Medical grade accuracy
Respiratory rate is 97% accurate and heart rate is 99% accurate.
Developed with board-certified veterinarians using ECG as a reference.
Patent-pending technology
Patent-pending technology combining state-of-the-art hardware, sensor fusion, and proprietary artificial intelligence algorithms to scan your dog's vitals— even through dense fur.
Packed with innovation
LTE-M connectivity: the most innovative and power-efficient network for connected devices.
Smart geolocation using Bluetooth, Wifi Positioning System and GPS for optimal coverage and precision.
AI-based adjustments: the algorithms adapt to your dog for increased precision and personalized insights.

Smart Dog Collar has a built-in SIM card.
How does it work?
The most advanced dog collar, the easiest to use.
1. Choose your Smart Dog Collar

Smart Dog Collar has an arrangement of sizes fit for small/medium to large dogs.

2. Buy your subscription plan to activate the built-in SIM

A subscription is necessary to activate the built-in SIM card. The collar transfers activity & health data through the LTE-M network, even when you're not around your dog.

3. Get closer to your dog than ever before

Now that you've set everything up, get ready to really understand your pet. You will have done the best to protect them.
We believe in dog longevity through predictive healthcare
Invoxia has developed a patent pending range of sensors paired with artificial intelligence algorithms and has collected tens of millions of days of pet activity data to create the most advanced medical grade dog collar.
World-class experts are joining our scientific board
With them, we will continue to push the boundaries of canine preventive health. Our shared ambition is to revolutionize our knowledge of canine health and help dogs live longer, happier and healthier lives.
Valérie Chetboul, DVM, PhD, HDR, Dipl. ECVIM-CA (Cardiology)

Director of the Cardiovascular Unit at the Alfort National Veterinary School in France.

Dr. Daniel Promislow, PhD

Bio-gerontologist, expert in Canine Longevity at the University of Washington.
A higher than normal resting respiratory rate is one of the most pertinent indicators of impending heart failure.
Are you a veterinarian that wants to work with us? Feel free to contact us.
If you wish to contact us regarding a university or private research project, contact us here.
Nearly 8 million dogs in the U.S. suffer from life-threatening heart conditions…
Up to 10% of canines are at risk of having a heart disease, dormant or diagnosed. This number rises to 60% in senior dogs.*
The most frequent diseases such as Mitral Valve Disease or Dilated Cardiomyopathy are hard to detect in time, they progress slowly and lead to life-threatening congestive heart failure (CHF) in dogs.

Smart Dog Collar can help you monitor that your cardiac dog is stabilized, and detect onsets of congestive heart failures. Recent scientific studies** show that early detection of heart disease during their dormant stage (preclinical), can lead to an extra 1.3 years (15 months) of time with your dog given the proper treatment.
Smart Dog Collar has made headlines across the board
200 enthusiastic press articles and counting
This Smart Dog Collar is one of the coolest things we've seen yet from CES
Forget Apple AirTag, Invoxia's Biometric Smart Dog Collar is the right way to track your pet
This smart collar wants to be an Apple Watch for your dog
Heartprint Technology™, an advanced heart tracking technology that approximates that of electrocardiogram data
The Invoxia brand is trusted by hundreds of thousands of customers worldwide
Join the Pack now
Jedi
Size : M
Toby
Size : M
Rosie & Gaston
Size M & size S
Shanna
Size : M
Tormund
Size : M
Falko
Size : M
Peppa
Size : S
Maya
Size : M
Satsuki
Size : M
Dunkin
Size : S
Smart Dog Collar
Product information
Included in the membership
Description
The first biometric health collar for dogs that's won 7 international awards. Smart Dog Collar comes with the Midnight Black strap in the size chosen below.
Additional colors available on the store.
Join the pack!
Sign up and join tens of thousands of happy pet parents.
Receive exclusive offers, exciting news and helpful tips.
SUBSCRIBE